Podcast: Play in new window | Download
Banana bread is always a treat, but now with gluten-free flour, sea salt, organic eggs, raw sugar, coconut oil, and walnuts it can be a high-energy "pick-me-up" snack for young and old alike. Kira and Bill Van Ittersum talked about this bread in their Gluten-Free Baking podcast a few weeks ago and the response has been fantastic. Listeners wanted the whole recipe, so here it is.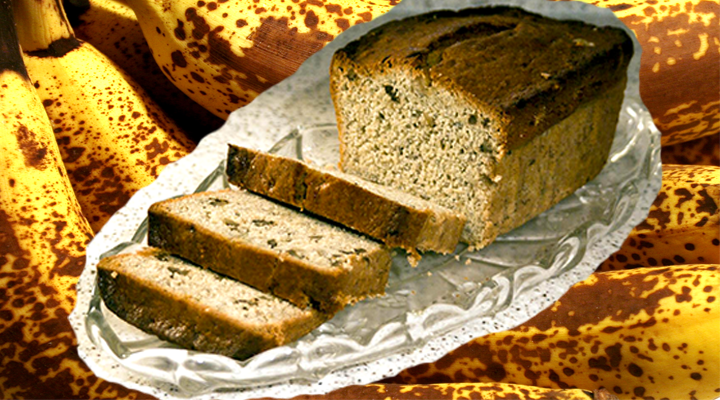 Bill and Kira serve this fresh banana bread to their grandkids for an after school snack and they love it! Spread a little coconut oil-butter spread (50-50 mix) on it and they practically inhale it. With granola bars, there is always some left over—not with this delicious, moist banana energy bread. Try Kira's recipe, you'll be happy you did!
Links:
Find Namaste Foods and their delicious recipes here: http://www.namastefoods.com/products/cgi-bin/products.cgi?Function=show&Id=13
Banana Energy Bread – Kira Style
2 cups Namaste Foods Gluten Free Perfect Flour Blend
1 tsp baking soda
1/2 tsp sea salt
1/2 cup melted coconut oil
1 cup raw sugar
2 large organic eggs
4 medium, over-ripe bananas, mashed
1 tsp. gluten-free vanilla
1 cup coarsely chopped walnuts
Heat the oven to 325 degrees F.  Lightly coat a 9×5 loaf pan with coconut oil.
In a medium size bowl sift together the flour, baking soda and salt. Set aside.
In a large bowl mix together the coconut oil and sugars. Add the eggs, mashed bananas and the vanilla. (Please Note: Kira always sets the eggs in a dish filled with warm water for several minutes before breaking them out of their shells because coconut oil tends to congeal and harden when exposed to cold temperatures.) Stir all of the wet ingredients together. Then fold the wet ingredients into the dry ingredients along with the walnuts (if using them).
Pour the batter into the 9×5 loaf pan and bake for approximately 65 -75 minutes, or until an inserted toothpick comes out clean. In my oven, 65 minutes is the perfect amount of time. Transfer the loaf to a wire heating rack and cool before serving.